Kaiser Glass Design
Make your own Aventurine!

This is not an earthshaking tutorial that will make deep inroads into fusing techniques. It is a procedure that is simple and fun and creates a delightful glass for use in your fusing. When we say Aventurine Glass, we are talking about a coating that simulates finished aventurine glass.
Create any color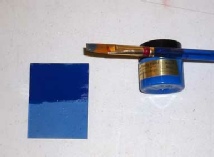 What we are going to do is give a dusting of dichroic coating to a piece of glass giving it that Aventurine look. The good news is that you can do this in about any color.. The base color needs to be Kaiser Glass Paint, not the color of the glass. (we discuss the reasons for this below)The better news is that you have a choice of dichroic colors to give a varied look to the Aventurine.
We use dichroic decal (either Dichro Magic decal or Glasshopper's dichro slide) as a donor for the flecks of bright color. Any dichroic decal color can be used, even mixed colors (such as Dichro Magics tie-dye).
Make your Aventurine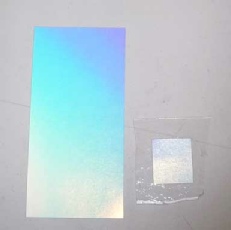 We start with any piece of glass as a "donor" base for heating the dichroic material. This is not the final piece. It is simply a vehicle to process the dichro. Following standard decal directions, apply the dichroic decal to the glass. If you need help with this, see our other decal tutorial. It really is simple though. Just soak the decal until it slides off the paper onto your glass. Dry thoroughly.
Place this glass in the kiln and heat it to 950°F for 5 minutes. We are just taking it up to burn off the decal carrier, not to fuse it to the glass.. If you use a relatively small (2x2 or smaller) piece of glass , you can heat it up AFAP.
Cool the glass. You now have your "donor sheet". This is the sheet that will give the aventurine the flecks.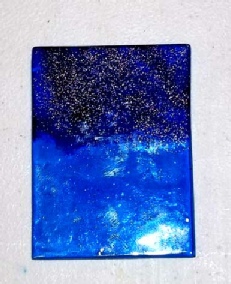 Now, in a perfect world, we would just gently scrape the dichro about 6 inches above any color glass and use that as aventurine.. Unfortunately this is not a perfect world. Dichroic flakes have very little weight. When fused, they do not have enough weight to sink into the glass and be held in place. We overcome this by painting the glass with any color Kaiser Glass Paints and applying the dicro while the paint is wet. Hold the donor piece of dichro coated glass about 4-6 inches above the (wet) paint coated glass and gently scrape it. Glass flecks will rain down onto the paint. Once you are satisfied with the coating, stop and dry the paint. The flecks have enough weight to sink into the wet paint and be held in place once dried and fired.
Now you can use your (Faux) aventurine as you see fit, fusing it into your favorite combinations. This technique can be used on any glass, large or small. You can even mix aventurine colors on one piece of glass. Just paint different areas with different colors and apply the dichro. Works like a charm.