© 2005-2023 All Rights Reserved. Kaiser Design Studio





CMC Carboxy-methyl cellulose This is the food grade CMC containing very few color producing contaminants. Note: All starches will produce some color change in fused powder frits. Minimizing the contaminants minimizes the color change. This is the grade we use in our glass clay.
RTV 2 part silicon mold making material. This 2 part RTV (room temperature vulcanizing) putty has approximately a 4 minute working time before setting. Two individual bottles, totaling:


Bright Red-$13.95
Royal Blue-$15.95
Orange-$11.95
White-$12.95
Brown-$11.95
Green-$12.95
Blue Green-$12.95
Yellow-$11.95
Black-$15.95
Turquoise-$12.95
Pink-$14.95
Teal-$14.95
Pumpkin-$13.95
Cobalt Blue-$15.95
Chocolate-$13.95
Gray-$14.95
Sky Blue-$13.95
Red Orange-$13.95
Grass Green $14.95
Bright Yellow $14.95
Powder Enamels
Work with all COEs
Finally Here!!
You have to try these to believe them
These are the finest quality enamel powders on the market! No other powdered enamel can match the amount of pigment in our enamels. That is why they give such vivid colors.
They come in a 2 ounce bottle. Powder will settle in shipping.
We will put these up against any other enamels on the market costing twice as much. You will find our colors superior.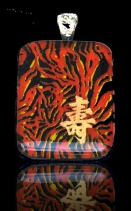 Sets
Basic Set:
Set of 10 basic color enamel powders (above left) each in a 2 ounce jar. $119.95
Designer color Set.
Set of Tem supplemental Designer colors (above Right) $134.95

Note: Due to monitor image reproductions, colors may vary.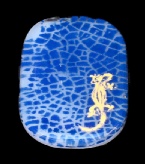 Special! No risk test!
When ordering our sets, receive a bottle of Black enamel to test. Try the black and if not delighted, return the unopened set(s) you ordered and we pay freight.
Kaiser Screen and Paint Medium
A new superior quality medium developed by Kaiser Glass. Compares favorably with the best suspending agents for enamel powders. Less expensive than the best mediums but works as well if not better. Works great for screen printing or painting. Water washable and can even be thinned with water. Excellent open time, but not days like A-14. 4 Ounces $9.95